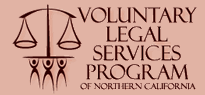 The Voluntary Legal Services Program of Northern California provides legal services to eligible low income clients who live in the counties of Sacramento, Yolo, San Joaquin, El Dorado and Placer.

VLSPs legal services range from referrals to volunteer attorneys for direct representation to assistance of self-represented parties at our legal clinics. VLSP serves clients at three main locations in Sacramento County.

VLSP is a volunteer-based "pro bono" legal aid program that provides free assistance with civil legal matters to low income clients living in the Sacramento region. Since 1981, through the generous help of thousands of volunteers from the Sacramento area legal community, VLSP has been providing assistance to clients.
Cases They Take On:
Family law, guardianship/conservatorship/probate, employment law, debt collection and estate planning.
Must call office to make an appointment.
Park: E Street parking. 2 hour limit. No cost.
Areas Served
El Dorado County
Placer County
Sacramento County
San Joaquin County
Yolo County

Mission Statement: To secure access to justice for people of limited means through the use of volunteers providing pro bono assistance, and educating clients to create greater knowledge and self-sufficiency.