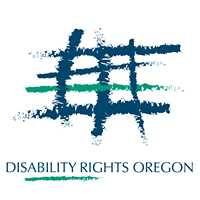 Disability Rights Oregon (DRO) promotes Opportunity, Access and Choice for individuals with disabilities. We assist with legal problems directly related to disabilities. We do this in a variety of ways, such as providing information, tools and referrals that empower self-advocacy, promoting awareness of civil rights, investigating and addressing reports of abuse and/or neglect, pursuing policy changes and legislation that benefit people with disabilities, representing individuals in cases where legal expertise is needed and litigation when necessary.
Hours of Operation: Monday - Friday 9:00 am - 12:00 pm and 1:00 pm - 5:00 pm
Hours:
Monday

9:00 AM - 5:00 PM

Tuesday

9:00 AM - 5:00 PM

Wednesday

9:00 AM - 5:00 PM

Thursday

9:00 AM - 5:00 PM

Friday

9:00 AM - 5:00 PM

Saturday

closed

Sunday

closed
Mission Statement: Our mission is to promote and defend the rights of individuals with disabilities.