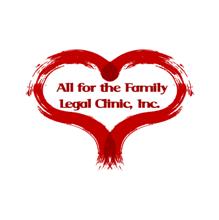 All for the Family Legal Clinic, Inc. is a public benefit corporation dedicated to providing low cost legal assistance to the San Francisco Bay Area.

We charge based on a sliding scale taking into account both income and family size.

We focus on :

Restraining Order Assistance

Divorces

Custody Disputes/Modifications

Estate Planning

Probate

LandlordTenant Disputes

Immigration

Mission Statement: Save the babies, Save the World!