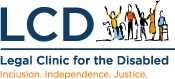 The Legal Clinic for the Disabled (LCD) provides free legal services to low-income people with physical disabilities and to the deaf and hard of hearing in Philadelphia, Bucks, Chester, Delaware and Montgomery Counties. At LCD, we provide a variety of legal services. As part of our work, we assist victims of domestic violence with getting legal protection from their abusers. We represent victims of identity theft and consumer fraud. We help parents and caregivers access healthcare for their children. We write wills, powers of attorney and living wills. Most of the clients we serve experience physical limitations in their daily activities, and many have suffered catastrophic injuries or illnesses like stroke, spinal cord or brain injury, multiple sclerosis, cancer, advanced diabetes, glaucoma, AIDS, amputation or epilepsy. Our services help them overcome legal problems and continue living safely and independently in the community. Please note we do not handle criminal or personal injury matters. In order to be eligible you must have a physical disability or be deaf or hard of hearing, have an income no greater than 150% of the federal poverty level and reside or have a legal matter in Philadelphia, Bucks, Chester, Delaware, or Montgomery County.
PHONE INTAKE HOURS
Wednesday: 9:30am to 3:30pm
Call 215-587-3350
Hours:
Monday

closed

Tuesday

closed

Wednesday

9:30 AM - 3:30 PM

Thursday

closed

Friday

closed

Saturday

closed

Sunday

closed
Mission Statement: Community outreach such as this furthers LCD's mission to provide direct legal services to persons with physical disabilities and demonstrates its commitment to a holistic approach to addressing the social determinants impacting positive health care outcomes.